Hey everyone! If anyone wants to comment on our new game trailer before we put it on YouTube, you can find it here. Until we get a blog set up, you will have to email us on the contact page to comment.
Bash the Bankers is a delightful physics puzzle game where you are challenged to knock evil bankers off their pedestals.

Features include:


Realistic 3D physics with ice, rubber, wood, hinges and more.

Sixty-four levels! It starts out a skill based shooting game but evolves into more of a puzzle game in the later levels.

High definition retinal display artwork and animations.

Win up to sixteen achievements, including a couple of mystery achievements.

Simple but captivating one touch shooting.

All levels fit on one screen. No scrolling required.

Fantastic fireworks and other particle effects.

Universal app, runs on iPhone 4, 4S, 3GS, 4th generation touch, and iPad 2.
Attempt to win a trophy on every level!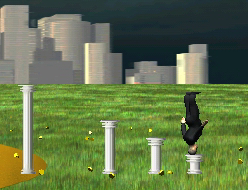 Try not to do this!